An Ethical Outlook on The Influence of Memory on Violence
Keywords:
Ethics of Memory, Memory, Ethics, Violence, Value, Society
Abstract
As we witness the growing popularity of what it referred to as memory discourse within the fields of historical and cultural studies, it becomes apparent that there is a lack of systematic insight into the ethical dimension of this subject. This paper attempts to alleviate this imbalance. In the first section, the author scrutinizes the relationship between memory and violence. This has appeared in human history as a very real and multifaceted issue but remains under-explored in philosophy and theology. Given the vibrant nature and moral fickleness of memory, in the second section, the author outlines some ethical requirements that should regulate the use of memory. Epistemological, pedagogical and practical aspects of memory are taken into consideration within a comprehensive, broader social context, as well as individual demands. Presuming that memory can be a valuable ingredient for a good life, the author reconsiders the ethical criteria for memory, which should not just prevent violence but also stimulate tolerance and cohabitation.
References
Assmann, Aleida. 'Memoria collettiva', in Dizionario della memoria e del ricordo, edited by Nicholas Pethes and Jens Ruchatz. Milano: Bruno Mondadori, 2002, pp. 314-316.
Assmann, Aleida: Ricordare, Forme e mutamenti della memoria culturale. Bologna: Il Mulino, 2002.
Bettini, Maurizio. 'Sul perdono storico. Dono, identità, memoria e oblio', in Storia, verità, giustizia. I crimini del XX secolo, edited by Marcello Flores. Milano: Bruno Mondadori, 2001, pp. 20-43.
Blustein, Jeffrey. The moral demands of memory. Cambridge: Cambridge University Press, 2008. doi: 10.1017/CBO9780511818615
Connerton, Paul. Come le società ricordano. Roma: Armando Editore, 1999.
Fabietti, Ugo and Vicenzo Matera. Memorie e identità, Simboli e strategie del ricordo. Roma: Maltemi, Gli Argonauti, 2000.
Freud, Sigmund. 'Remembering, Repeating and Working Through', in The Standard Edition of Complete Works of Sigmund Freud, vol. 12. London: Hogarth, 1958.
Glissant, Edouard. Introduction à une poétique du divers. Paris: Gallimard, 1996.
Grande, Teresa. Il passato come rappresentazione. Riflessioni sulle nozioni di memoria e rappresentazione sociale, Messina: Rubbettino Editore, 1997.
Halbwachs, Maurice. La memoria collettiva. Milano: Unicopli, 1987.
Margalit, Avishai. The Ethics of Memory. Cambridge-London: Harvard University Press, 2004.
Montesperelli, Paolo. Sociologia della memoria. Roma-Bari: Editori Laterza, 2003.
Oakley, Justin. Morality and Emotions. London-New York: Routledge, 1992.
Ricoeur, Paul. Memory, History, Forgetting. Chicago-London: The University of Chicago Press, 2004. doi: 10.7208/chicago/9780226713465.001.0001
Ricoeur, Paul. The reality of the Historical Past. Milwaukee: Marquette University Press, 1984.
Todorov, Tzvetan. Gli abusi della memoria. Napoli: Ipermedium Libri, 2001.
Todorov, Tzvetan. Memoria del male. Tentazione del bene, Inchiesta su un secolo tragico. Milano: Garzanti, 2001.
Vidal, Claudine. 'Il genocidio dei Ruandesi tutsi: Crudeltà voluta e logiche di odio', in Sulla violenza, edited by Françoise H. Héritier. Roma: Maltemi, 1997.
Volf, Miroslav. Iskljucenje i zagrljaj. Teološko promišljanje identiteta, drugosti i pomirenja. Zagreb: Steppress, 1998.
Volf, Miroslav. The End of Memory. Remembering Rightly in a Violent World. Michigan-Cambridge: W.B. Eerdmans Publishing Company, 2006.
Wardi, Dina. Le candele della memoria. I figli dei sopravvissuti dellOlocausto: traumi, angosce, terapia. Firenze: Sansoni, 1993.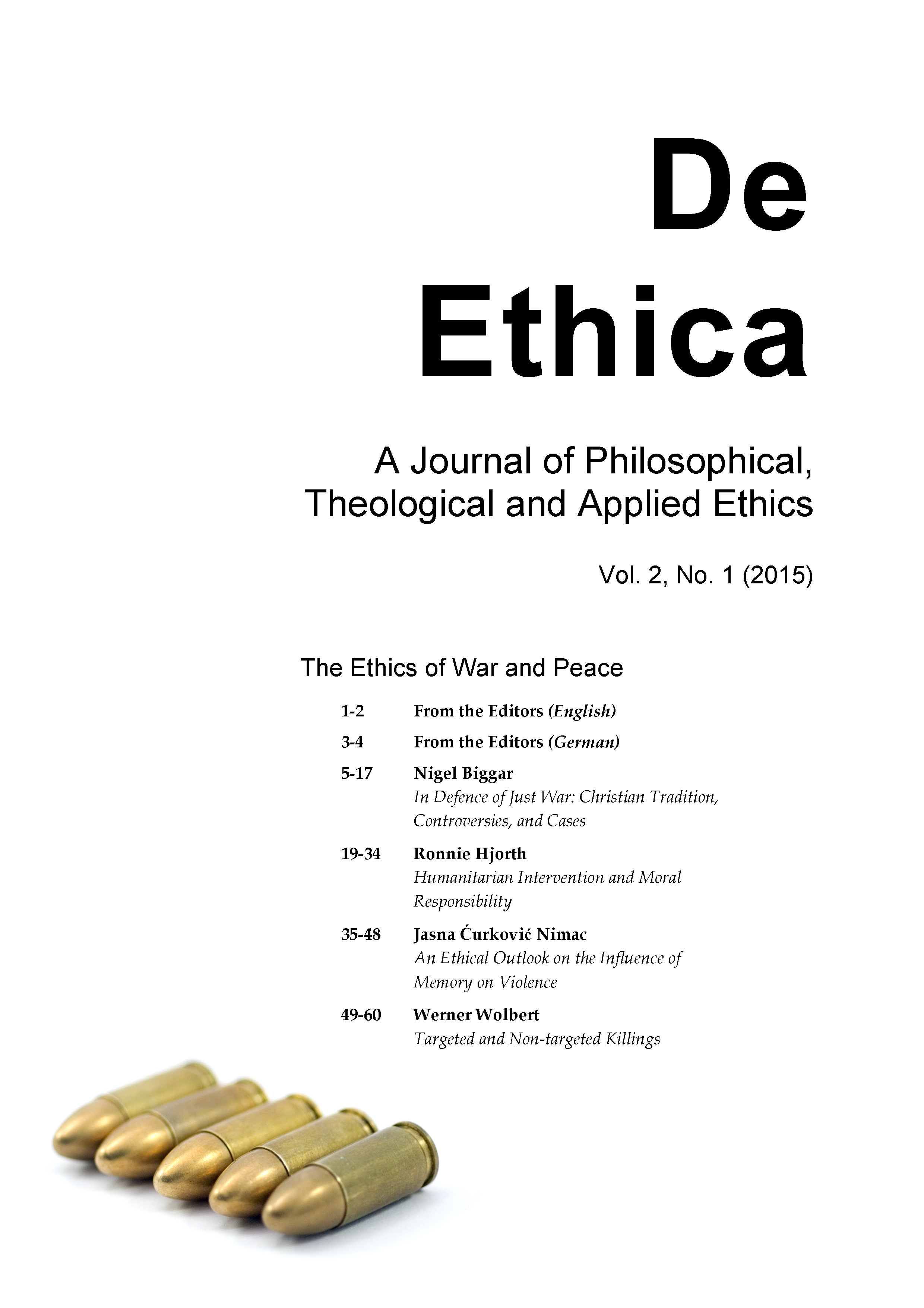 Downloads
How to Cite
Čurkovi č Nimac, J. (2015) "An Ethical Outlook on The Influence of Memory on Violence ", De Ethica, 2(1), pp. 35–48. doi: 10.3384/de-ethica.2001-8819.152135.
License
Copyright (c) 2015 ?urkovi ? Nimac
This work is licensed under a Creative Commons Attribution-NonCommercial 4.0 International License.